When I bought my big game tags this fall, my intention was to make a well-placed shot if an opportunity presented itself. Antlered or antlerless, it didn't matter—I just wanted to fill my freezer with an ethical harvest.
No elk, what?!
Despite miles on foot and horseback, oddly I didn't see elk during archery season. I prefer elk meat but at this rate, I started to think more about taking a deer instead. Especially when one day at first light during rifle season, I came across muley and white-tailed bucks. The white-tailed rut was in full swing and there were bucks everywhere that morning. I had a wide 4x5 white-tailed through the scope, but he was quartered away, running and wouldn't stop. No shot.
Later that day, we spotted a group of four bull elk across a valley while scouting. Months of elk tracks and scat but no live animals—it was about time!
Twelve minutes of legal light left…
We sped down to the creek, parked and scrambled up a hill in such a fashion that I was surprised we didn't spook the bulls. There he was: a lone bull that hadn't been visible from the hill. A nearby stump became the perfect rest for my dad's .270 rifle. With my legs violently shaking, I got the elk in the scope.
The lone bull.
I shot behind his shoulder, from 200 yards through page wire. He turned broadside and my second shot went through both lungs. Down he went, 30 yards from where he was shot, just after a cow moose popped out of the shrubs and blocked any potential to shoot again. Luckily that wasn't necessary.
Truck lights, headlamps, and phone lights gave us enough light to gut him in -20°C. The upcoming forecast was favourable to let the meat age without freezing it (thank you chinooks!), so I decided to hang the carcass for a week once we were done skinning. We scored him before going to bed though—323 inches.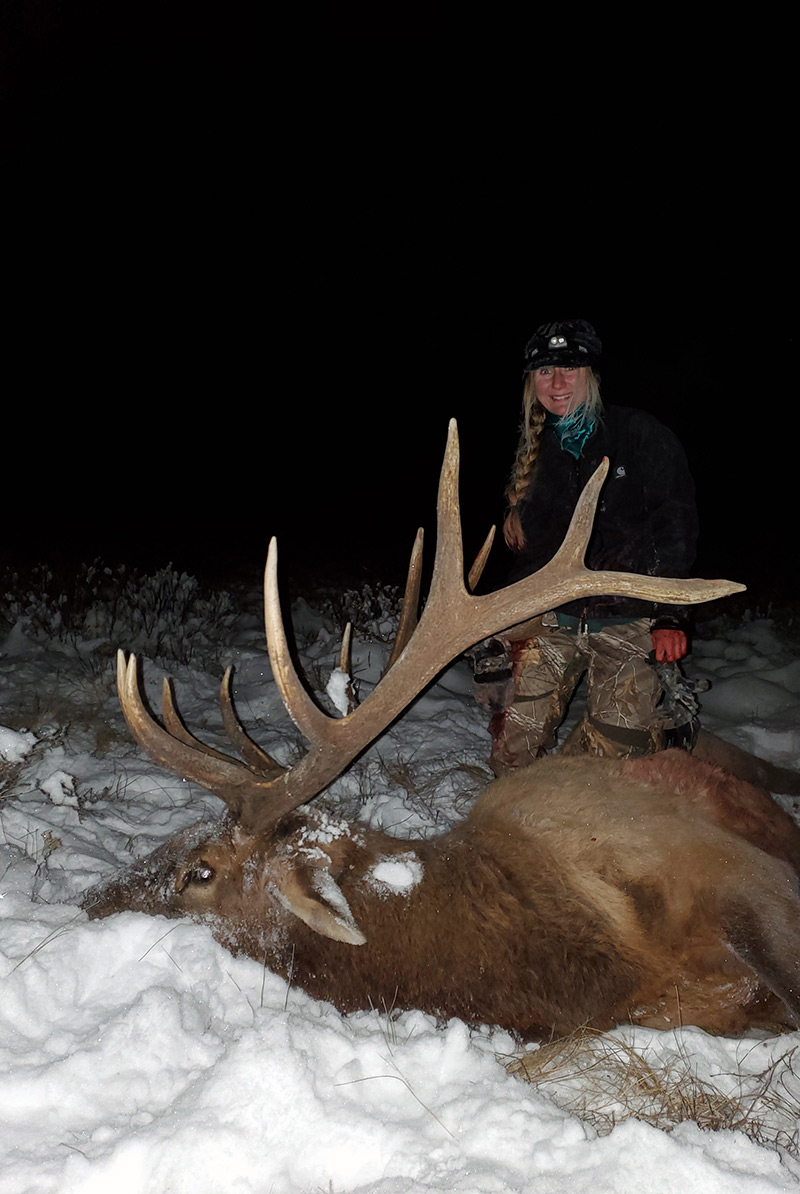 Freezer, filled.
The following weekend my brother and grandfather, both avid hunters, helped process the meat. We made 30 lbs of burger, wrapped more roasts and steaks than I know what to do with, and set aside 70 lbs for jerky and sausage. I still have one hind quarter in the freezer; I can decide later what to make more of.
Thanks family.
A couple of years ago my brother let me start learning with his old bow, so I didn't have to commit to buying my own right away. He downplays his part in all of this, but scouting that field at the end of the day was his idea. Plus, the timing of my grandpa's visit was perfect—having him there to help with my first big game animal was more than I could've asked for.
Until next big game season, I'll be trying new recipes to pass the time!