ATVs and the like are a modern phenomenon—just a couple of generations ago a good packhorse was the best way to get an animal out of the backcountry. If hunters were lucky, a stoneboat and some draft horses could pull a heavy load back to the vehicles or farmstead. Enjoy the fact that today, we've got several options to efficiently get our game where we want it. Whether you use a simple, inexpensive toboggan or a pricier game cart, there are a range of options that can all get the job done.
Backpacks
Under their own steam, early sheep outfitters, trappers, and big game hunters used a Trapper Nelson pack frame to haul meat, hides, and horns or antlers back to camp. It's still practical when you are hunting steep, rugged, or remote country. The difference is that now, hunters are spoiled with a wide array of backpacks that help balance the load and hold the volume of meat you can handle.
External-frame backpacks
These packs provide a durable mount to tie everything down—many hunters like the external frames for hauling antlers and horns for the last trip out. You can attach a variety of bags to the frame to haul camp, gear, and food. After harvest, you can attach an entire quarter to the frame, or a whole deer or antelope that has been boned out.
Internal-frame backpacks
These types of backpacks are easier to balance if you adjust it to fit you properly. Weight is distributed across your hips, back, and shoulders—good for a novice who hasn't yet tried a heavy pack. Keep in mind with this type of pack you can't carry as much…unless of course you have a really big back!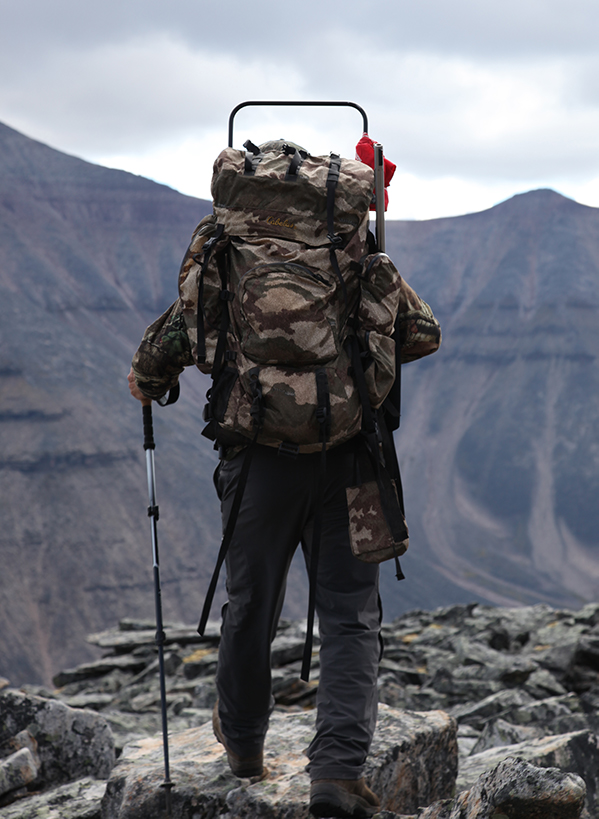 How to choose
Talk to other hunters and visit a sporting goods outlet to try different styles of packs. The winner should feel like an extension of your body. Also consider the volume of the bag and the overall weight. An empty pack that is heavy will reduce the amount of meat you can pack.
Trust a trial
Before you ever try packing an animal, fill your pack with a modest amount of weight and go for a walk. Stay on even ground at first, then add to the challenge the next day with steps or elevation. Being fit is the best way to be efficient and safe as a hunter, with the strength and ambition to get the job done!
Bagging bags
Game bags are great to carry in your pack, so you can keep the meat clean and organized for butchering. Use one bag for each of the hindquarters or organize them for steaks, roasts, and meat to be ground.
---
Game Carts
Several hunting seasons (archery, northern mountain units, certain mountain and foothills zones, general bighorn sheep) are in late summer or early autumn—when there is still thick vegetation on the ground. A quad or side-by-side makes game retrieval easier, but machines aren't always able to get to where hunters harvest an animal, or may not be allowed.
While backpacks are great for hauling game out of a remote area, sometimes hunters need to reduce muscle exertion. One of the best rigs for helping hunters reduce strain on the body is a game cart. Original units had one wheel, but it didn't take long for two-wheeled models to take over with superior balance and support.
Less muscle, more progress
A large mule deer buck could take two or three trips to retrieve with a backpack, but the entire animal can be strapped to a cart and maneuvered out in one load. The beauty of a game cart? You can push it or pull it. Better yet, have one person on each end to tag team on the effort. A well-balanced cart works equally well on steep terrain as they do on a game trail, and can even be pulled uphill with ropes and pulleys.
Consider components
Today, carts come with a variety of options to choose from. Choose components that will work for your needs. Does the unit need to fold or disassemble to get it into your vehicle? Some carts are extremely light, meaning you're pulling or pushing just a load of meat when in use. Some have mesh to hold meat or a whole animal above the ground and wheels. Others have a plywood rack on the cart to ensure the load stays out of the way of the wheels.
Tire tips
Pay attention to tires—some are solid, while others are like a bicycle tire with an innertube. Both have benefits for hauling in different terrain, bouncing over logs and rocks, but only one stands up to cactus when on the prairie! If you do use tires with innertubes, keep a repair kit and small hand pump with the cart.
Wheeeeee!
Time to buy? Sit on a cart and have your hunting partner pull you around the store. Trying them is the best way to see and feel the advantages—and ultimately reduce the amount of muscle and endurance you need to retrieve an animal.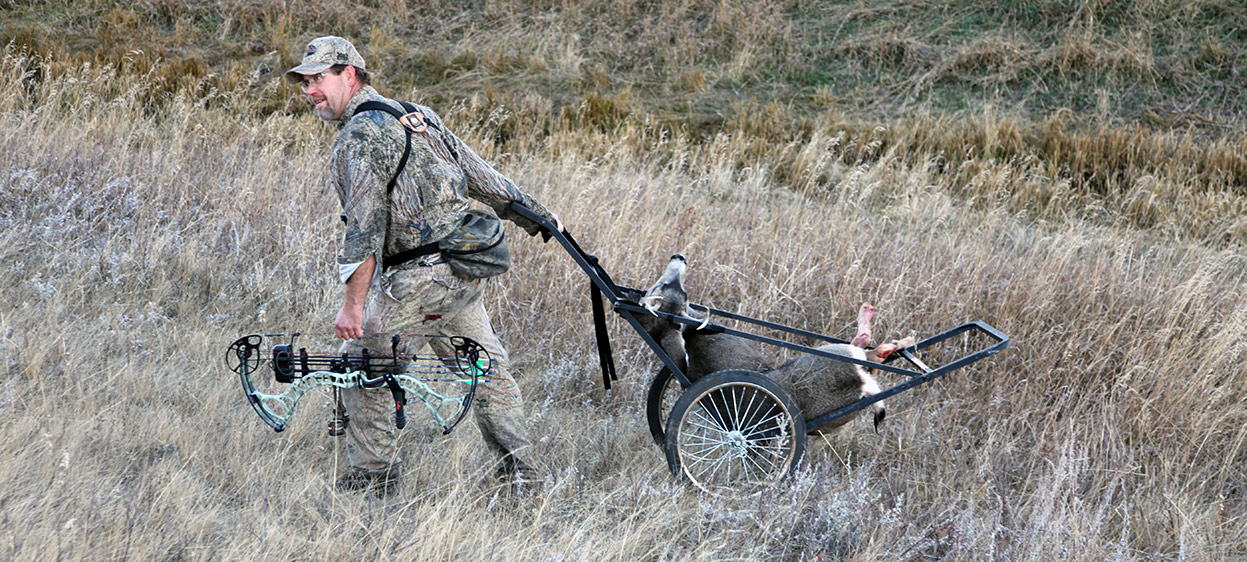 ---
Sleigh
A large proportion of hunting in Alberta takes place in November. While not everyone sees the advantage of the snow, hunters sure can!
Track game, follow a blood trail, and spot animals more readily against the white backdrop. Colder temperatures make it is easier to store and age meat, and you don't have to worry about insects.
Retrieval ready
A rope and harness allows you to drag a deer easily on the cold, white ground, using your whole body to pull the weight, not just your arms and shoulders. Many hunters use treestand harnesses as a game dragging device—the animal's hide glides smoothly over the snow, acting like a waxed ski.
Sleighs be sliding
But the easiest way to retrieve game, especially larger animals (like elk or moose), is with a deep sleigh. Usually referred to as a trapper's sleigh or calf sleigh, the deep, hard plastic units hold lots of weight and slide effortlessly on the snow. A hunter's sleigh should be durable. Thin-walled units on the local toboggan hill don't last long when loaded with meat and pulled over rough terrain.
Pulling power
You can use a treestand harness and turn yourself into a draft horse to pull the unit out. When rigged with two ropes, a sleigh can be pulled by hunting partners. You can also tie a rope to the front and back, where one person pulls, and the other controls the load during downhill movement.
Handy features
Sleighs often have holes to run a rope around the entire edge of the side and front upper lip. A hunter can strap or tie game into the sleigh, keeping it from shifting and possibly turning the sleigh over. Carry extra ropes or ratchet straps to secure the load before moving it.
Sleigh success
The bonus of a sleigh is loading game into a vehicle by yourself. It can act like a stretcher—lift one end onto the tailgate of a truck, and lift the other end to push it into the box. When two or more people are hunting together, the sleigh can be picked up on the sides, like a gurney, placed and pushed into a vehicle.
Trapper's sleighs can also be used on a grass surface, as they're smooth enough to glide over the vegetation without creating much friction. You can often pull much more than you can carry, making a sleigh a practical item to add to your required hunting equipment list.