Getting Permission and Deciding on What Field to Hunt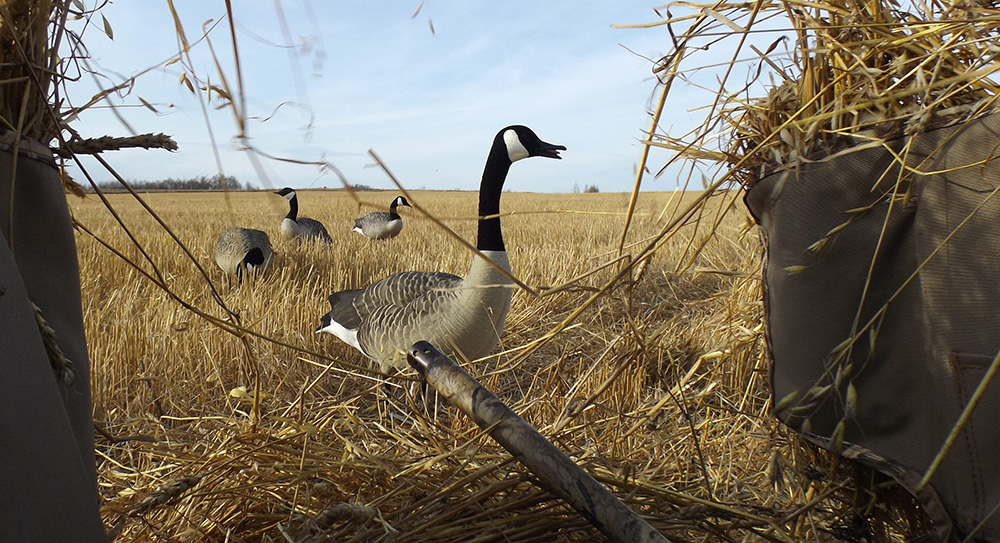 photo: Brad Fenson
It was mid-October, and the birds had stalled their migration making them hard to find. To make matters worse, the remaining geese were horribly gun shy and challenging to pin down in a single field, and even harder to decoy. I had my decoy trailer in tow and it was loaded with my new Avian X full-bodied Canada goose and mallard decoys. They were our secret weapon to finish birds in tight, even if they had been hunted for over a month.
It didn't take long to find birds when we got to our destination and the barley field was swarming with a mixed bag of Arctic geese and colorful ducks. When I went and asked for permission to hunt, the landowner was thrilled to hear the birds were in his field and said he wanted to save them for himself. We talked goose hunting for several minutes before I headed out to look for a new field. We did locate three stubble fields with Canada geese, but the biggest concentration was only 200 birds. We made notes of the locations and continued to cover new ground in search of a better opportunity. We had to find something before the birds went back to the water to roost for the day, or we'd be spending the evening spotting instead of hunting.
We covered lots of miles before finding the mother of all shoots. There had to be 10,000 geese in a harvested pea field and I didn't need to watch more than a minute before finding the landowner's house and asking permission. Our strategy to go farther from the big city wasn't working, as we were told the field was already spoken for and would be hunted the following morning. Determined to find success, we headed out again and managed to locate a small concentration of ducks before the birds started to trickle back to water.
Mario and I weighed our options to determine our best approach. There were several fields with birds, but no huge concentrations. With the smaller numbers, I wanted to hunt the big Canadas we had seen, as they were more likely to come in small groups and provide more opportunity. There were a few ducks in the mix and we headed back to find the landowner and ask permission.
I knocked on the door and momentarily held my breath hoping I'd be successful at obtaining permission this time and that nobody else had tied up the hunt ahead of us. A pleasant elderly lady answered the door and when I explained what we were doing and where the birds were feeding, she formed a fist and swung it around her midsection as she exclaimed, "go get them."
It was the best news I had received all day and her enthusiasm created even more excitement for me, knowing we had chosen the right field. We headed straight for the field and found the exact spot the geese had been feeding and it wasn't hard to tell why they were there. A couple of swaths hadn't been completely picked up by the combine, leaving full heads of grain intact. It was a very specific location, and we set up the decoys to focus them on the feed lines. Mario started collecting straw and stuffing it carefully into the straps on the layout blinds. He spent two hours meticulously tucking the straw ends down and covering the entire blind until it blended perfectly into the field.
We no sooner settled into our hide when two mallards winged overhead. Mario jumped on the duck call and welcomed the pair to the spread. The winged duo swung around, centred on the decoys and finished right in front of our blinds. With their feet just making contact with the stubble we sat up and put both in the bag.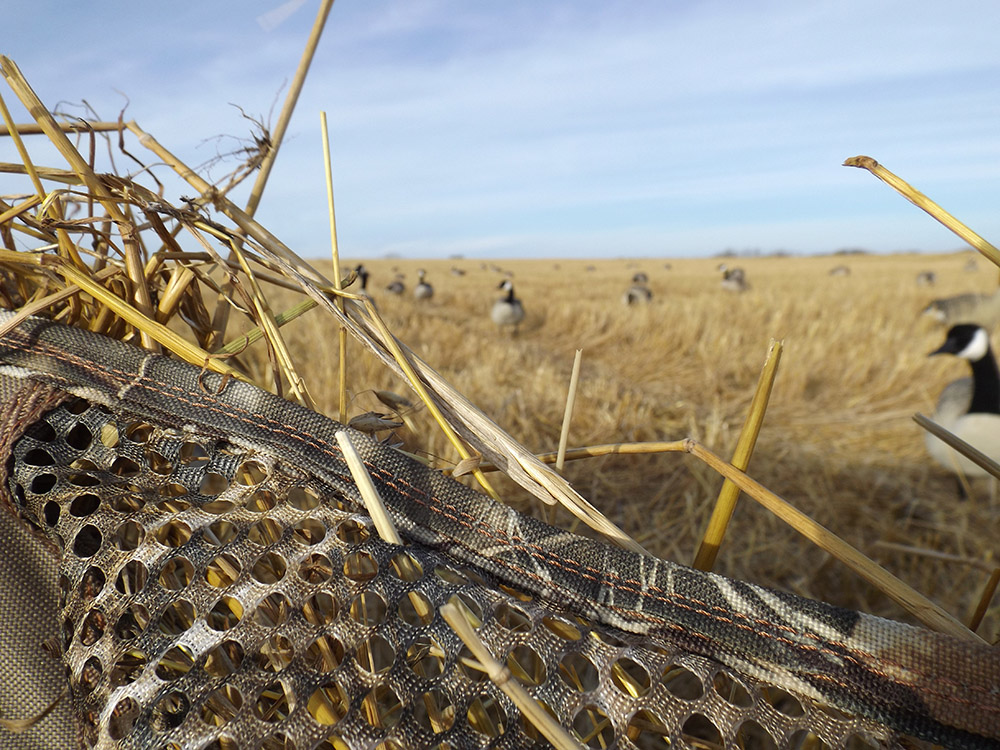 photo: Brad Fenson
We no sooner picked the birds up when another flight of mallards came from the north. They were anxious to get on the barley and with some excellent calling the birds committed as if we drew an "X" where we wanted them to land. The next flight of ducks came less than a minute later and after putting some big greenheads on the ground, we heard the distant music we'd been waiting for—geese!
The geese were coming out perfectly, so our shooting didn't scare the next approaching flock. A single came off my side and I downed it with the proper lead, and as the honkers were starting to stack up, big flocks formed on the horizon before the ones on our doorstep even got within range. A flock of 30 birds circled the field at the same time some smaller flocks worked the decoys. We knew we'd only have one chance and the first birds to come to the decoys got a two-gun salute.
It had been a great hunt, and our decision to chase the big geese was bang on, as they provided more than enough opportunity to fill our limits. Of course, we were a few birds short, as it can be difficult to stay calm and shoot straight when the birds worked as well as they did. We gauged our success on shots fired and certainly made a lot of noise.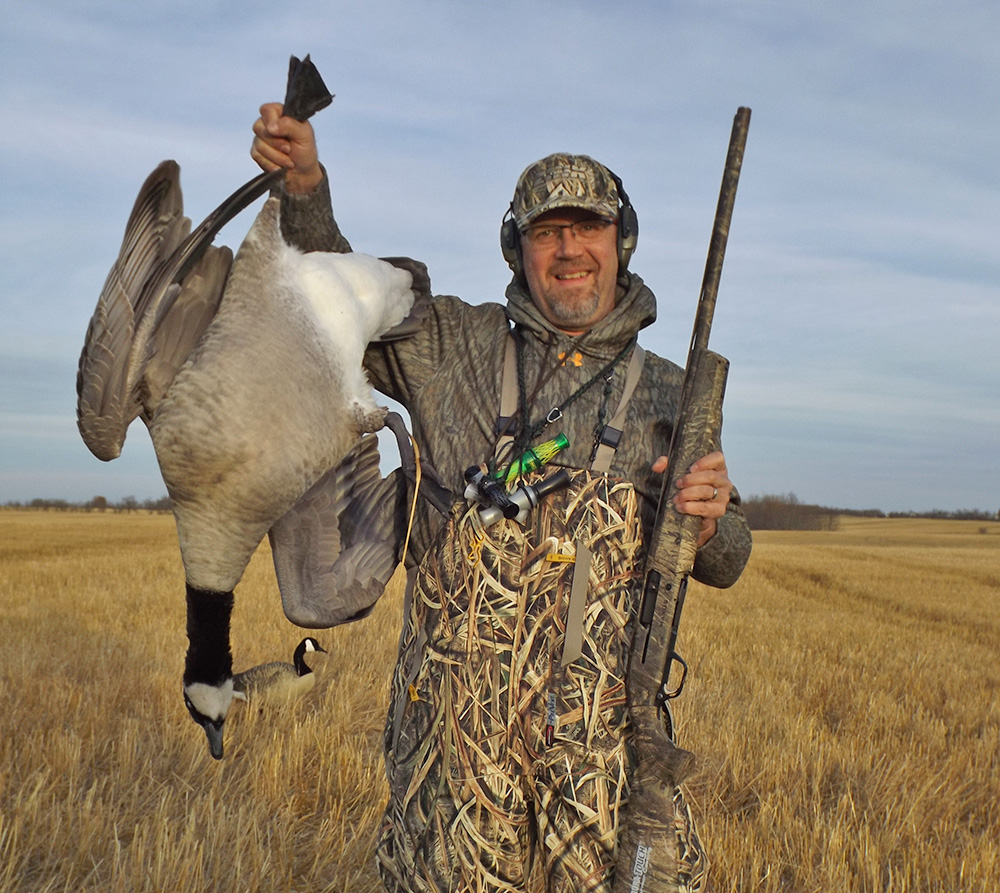 photo: Brad Fenson
Finding Landowners
County maps listing landowners, and showing where their residences are, are the best tool when spotting waterfowl. With one person driving and a second navigating and keeping track of where you are on the map, you'll know exactly who to contact when you locate birds. I like to use my iPad and download most of the county maps, free of charge, from their websites.
There are several apps available for smartphones to help mark approaches to a field, as waypoints. You can also record landowner information for future hunts. I keep notes on my map.
You are always better off to ask permission in person, as it helps reassure landowners you'll respect their land and crops. A phone call can work, and if all else fails, a neighbour can likely point you in the right direction or supply a number.
Be confident, friendly, and don't try to hide your excitement. And, if at first you don't succeed, try and try again.

photo: Brad Fenson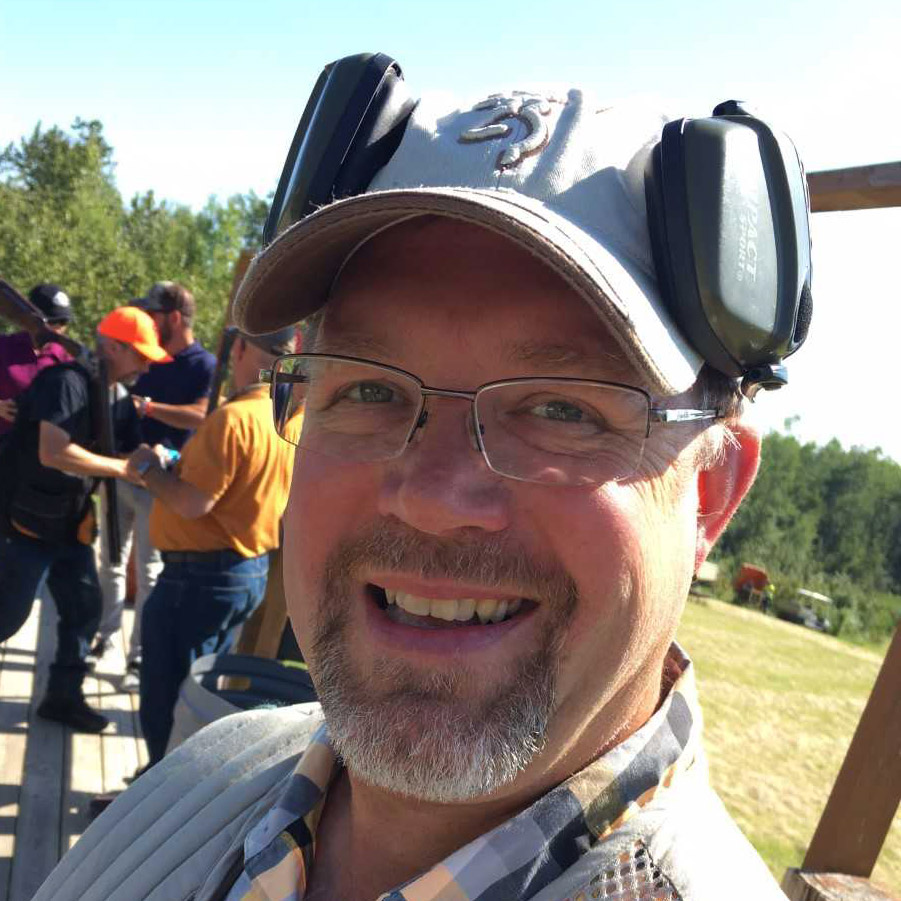 About the Author
Brad Fenson is an avid outdoorsman who enjoys hunting, fishing, and unique adventures. His passion for the outdoors leads him across North America collecting incredible photographs and story ideas from the continent's most wild places.