Summertime Shotgunning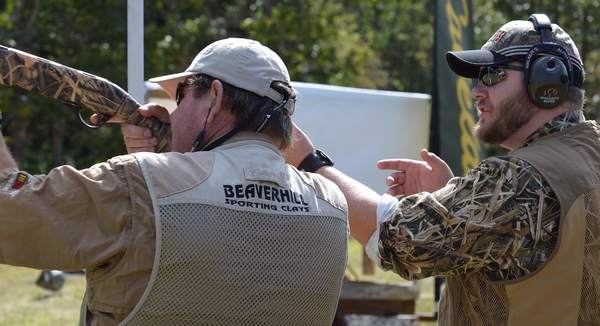 It's immeasurably more difficult to become proficient with a shotgun than it is a rifle. Shotgunning requires split-second assessments of the distance to your target, its speed, the angle at which it's flying, and an understanding of the ballistics of your load. That's a lot of math, and if you stop to think about it, your target is out of range. The answer? Practice and more practice—until shooting becomes instinctive. There's no better time than the summer!
Get Out There and Practice
Proper shotgun fit influences your shooting more than you might think. When you mount your shotgun it should come immediately to your cheek so that you're looking straight down the plane of the barrel. Off-season is the perfect time to have your shotgun fitted by a competent gunsmith. Minor adjustments can make all the difference.
Home-style clays throwers range from hand-held units to mechanical and electronic units. Buy what you can afford, find a safe property where you have permission, and work on your shooting skills. Clay pigeons are very affordable and trap shotshells are reasonably priced.
Start by shooting going away targets as they're easiest to hit and will help ensure your gun mount, footwork and balance are where they need to be.
Once you're confident shooting going away targets, replicate other field shooting scenarios. The most difficult for many shooters are right-to-left and left-to-right targets, as they require the most lead. Practice until you can hit them consistently.
I Still Can't Hit 'Em
Most people miss targets because they shoot either behind or over top of the target.
Focus on keeping your barrel moving continually in your follow-through. Stopping the barrel as you pull the trigger is a common error that invariably leads to missed shots.
Experiment with your lead until you find success; most often you need to lead your target more.
Shooting over top of a target happens when you're not getting your head down on the stock when you shoot. Be conscious of this and weld your cheek to the stock. Practice with an unloaded gun in a safe location until it becomes routine.
Commercial Shotgun Ranges
If you prefer to shoot at a commercial facility, Alberta has lots! Check out the Alberta Federation of Shooting Sports at www.abshooters.org for a complete list of ranges.
Sporting clays ranges imitate the varied angles and speeds of targets you encounter when hunting. Skeet and trap ranges replicate specific target angles that allow shooters to practice until they can hit them consistently.
Whatever you choose, get that practice in!