As the sun made its way over the prairie horizon, we parked our vehicle and geared up for the day. We arrived at our assigned hunting spot, as participants in the Taber Pheasant Festival. I was back in the field with my wife Stef, and buddies Dan and Lance, hoping to have a repeat of the action we experienced the previous year.
It didn't take us long to organize ourselves, put on our shooting vests, and fill our pockets with shotshells as we prepared to work the native cover ahead. We had Houston the Wonderdog with us again and were hoping he could give us a leg up just as he did last year, finding birds even in the heaviest cover.
There were buffaloberry thickets immediately into the field and we separated to go around the thorny patch of brush. I was watching ahead and saw a rooster run out of the cover and squat down in the sparse grass. I yelled at the others that there was a bird and was hoping that the dog would pick up the scent to send him skyward. Unfortunately, Houston was upwind and didn't detect its presence, leaving me to go in to flush the rooster. I fully expected it would be an easy start towards putting a bird in my game bag, but when the pheasant flushed I emptied my gun without touching a single feather. I had anticipated the bird would go one way, but he had different plans—catching me off guard, and off-balance, for what should've been an easy shot.
We continued to work the cover and it wasn't long before I heard the distinct cackle of a rooster going airborne. Dead-eye Dan shouldered his trusty pump and knocked the bird down before it could get out of range.
Working the edge of a large reservoir, we zigzagged through the thick cattail fringe bordering the water. The landscape was ideal with buffaloberry and rosebush patches on the uplands offering diverse cover for the birds to scurry back-and-forth between. Houston started to work the cattails and I could tell by the beat of his tail that he was onto a bird. He worked without flushing a thing, but his enthusiasm didn't falter as he started to double back, running through chest-deep water. To my amazement a rooster broke from the cattails and headed out across the reservoir. I shouldered my shotgun and this time made sure to patiently get on target before pulling the trigger. The rooster crumpled mid-air and fell into the water. It was a natural retrieve for Houston, being a large Chesapeake retriever that is as comfortable in water as he is on land. His nose had done him well and his swimming ability soon brought the bird back to my hand. To my surprise it was a wild bird that had been hatched on or near the property. With a long tail, and nostril flaps, I knew it wasn't one of the birds released for the festival. Getting a wild bird was a huge bonus for me and I revelled in the moment, knowing I hadn't taken one for many years.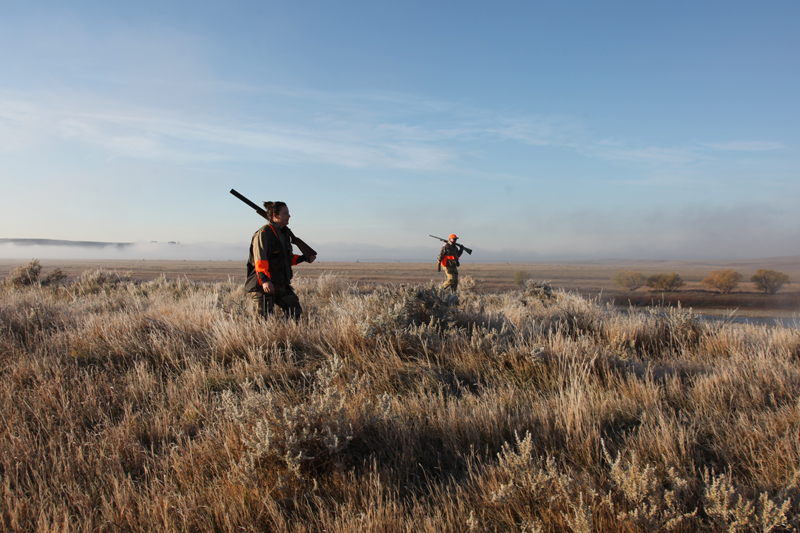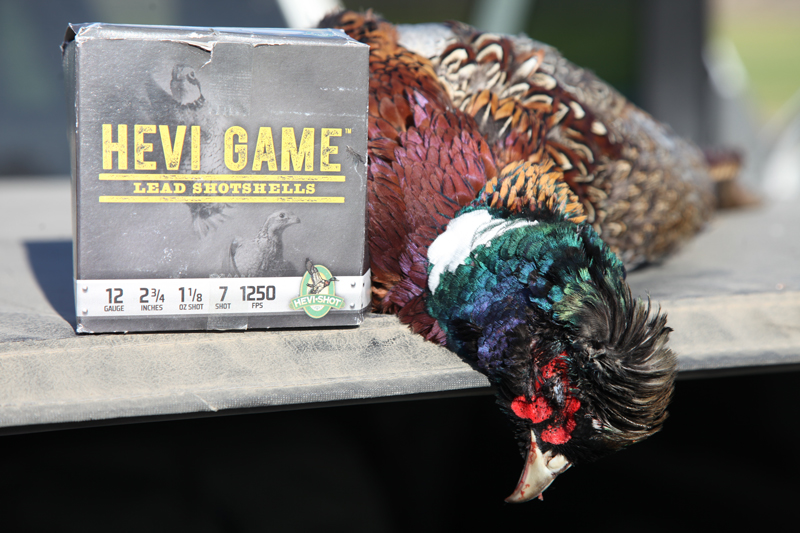 We continued to work the cover for another half mile and only put up three hens. We opted to go across the pasture to another arm of the reservoir where the heavy cattail might be hiding more birds. It was a wet hike but really didn't take us long to get there. Because Dan and I already had a bird we worked hard trying to get one up in front of Lance or Stef. No matter how hard we tried, the birds always came up where we least expected them to, never providing an opportunity. The water was so deep that my feet got wet from the water coming over the top of my boots. I really didn't expect to find pheasant in the deep-water areas and just wanted to get to the far side of the cover. Houston changed our plans when he walked into the scent of a bird and started to run around like he was chasing his tail. The bird ran through the water in circles trying to avoid its canine hunter, but finally broke skyward, cackling as it disappeared out of range. We tightened up the distance between the dog and the shooters hoping we wouldn't lose another opportunity.
We worked some dense cover and discovered the roosters were running far ahead of us. I had a good feeling they too might be wild birds, acting so cagey as they tried to avoid us. They flushed a long way ahead, never providing a shot. To top things off, they landed in an area we would need a boat to get to, making them safe for the day.
Once again, we found ourselves in deeper water, but it proved to be a place that held pheasant. A longtail jumped from the dry bulrushes and headed back over dry land. Dan made another outstanding shot knocking it to the ground. We put up four other birds, but most were well out of range. We now had wet feet and most of us sported a high-water mark on our pants that extended up past our knees.
Headed back to finish our push of the cover, another bird broke from the dry marsh vegetation and sprang skyward like a rocket trying to launch. It arced, caught the strong prairie wind and was gone in a matter of seconds. We worked farther down the edge of the reservoir where the cattails started to thin out. I was handling Houston for the day and was hot on his tail when he started to get birdie once again. I called for Stef to get in place for a shot, but before she could get there, the rooster broke and headed out across the open expanse of water. Once again, I shouldered my shotgun and was able to dunk the bird with a large splash, sending Houston on another water retrieve. This was also a wild rooster, and much bigger than the first.
We headed back to the trucks feeling we'd been more than successful, even though we hadn't taken our limits by any means. The experience was outstanding and getting to push the roosters from the heavy cover and over water made it a unique adventure. We were officially done for the day and all of us had big smiles. Stef didn't get a bird but it didn't hinder her spirits, vowing she'd make up for it the follow day.
The Taber Pheasant Festival is a wonderful place to learn how to pheasant hunt. With opportunity and training for novice hunters, you can learn the basics of hunting Alberta's most colourful game bird. Go to www.taberpheasantfestival.com to learn more about this magnificent event.