Jalapeno Duck or Goose Poppers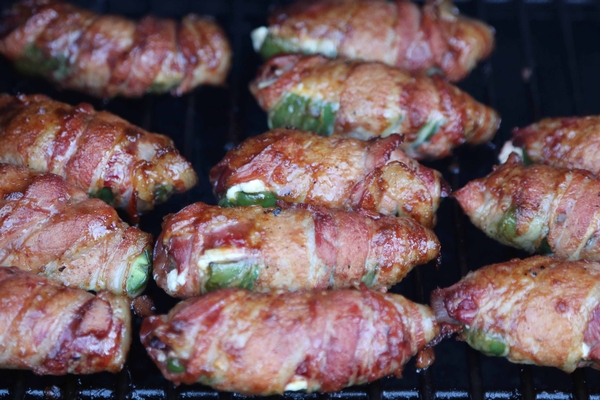 Ingredients:
For the Marinade:
¼ cup olive oil
1 tbsp soy sauce
1 tsp Hi-Mountain Garlic Pepper rub (or substitute ½ tsp each garlic powder and black pepper and add a pinch of salt)
½ can of beer or pop
For the Poppers:
8 duck or goose breasts
1 package (375 g) bacon (thin cut works better than thick cut)
6 jalapeno peppers
½ cup cream cheese
Directions:
Slice goose breast lengthwise into ½-inch wide strips (3-4 strips per breast).
Combine all marinade ingredients in a Ziploc bag or plastic container. Marinate duck breasts for 20 to 30 minutes just before assembling the poppers.
Slice jalapeños in half lengthwise and remove the seeds and core (you may want to use gloves as the seeds can cause irritation).
Spread cream cheese in each pepper until they are about 2/3 full.
Place duck strip on top of cream cheese.
Wrap each popper with a slice of bacon and secure with a toothpick.
Grill directly on the BBQ or in a foil pan for 2 minutes on each of the four sides until the pepper softens, the bacon is crisp and the goose is medium-rare to medium.
Oven method – place poppers in an oven-safe dish and broil on high for 4-5 minutes until bacon is browned. Turn over once, and broil an additional 4-5 minutes.
Turn oven off and let rest for a minute. Serve hot.