Meaty Venison Chili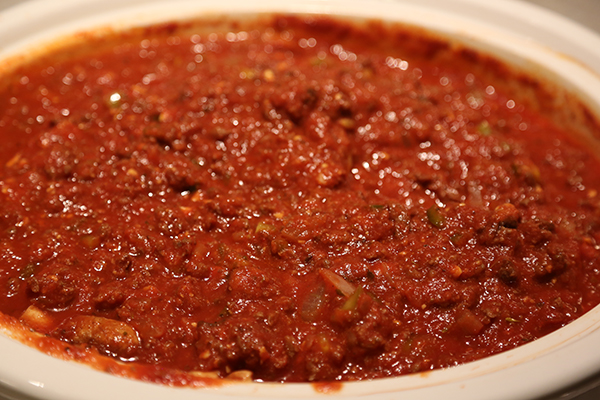 Ingredients:
2 tbsp olive oil
2 lbs ground venison
1 cup beer or beef stock
1 large red onion, chopped
1 large yellow onion, chopped
4 cloves garlic, finely chopped
1 green pepper, chopped
1 red pepper, chopped
2 jalapeño peppers, seeds and ribs removed, finely chopped (optional)
1 can (14 oz) red kidney beans, drained
1 can (14 oz) white kidney beans, drained
1 can (28 oz) diced tomatoes
1 can (14 oz) tomato sauce
1 can (5oz) tomato paste
3 tbsp chili powder
1 tbsp smoked paprika
1 tbsp cumin
1 tsp black pepper
1 tsp salt
Directions:
Heat a frying pan over medium heat and add olive oil, then ground meat. Brown meat but do not overcook or dry out the pan.
Put browned meat in the Dutch oven or crockpot. Use the beer or beef stock to deglaze the frying pan by heating the liquid and stirring, gathering the flavors left in the pan. Add deglazed liquid to the meat.
Add all chopped ingredients, kidney beans, and tomatoes. Slowly heat the ingredients to a simmer.
Add the chili powder, smoked paprika, cumin, black pepper and salt. Spices will blend easier into simmering ingredients.
Adjust the heat so the chili remains at a simmer and not at a rolling boil. If using a Dutch oven, cook covered for 3 to 4 hours. With a crockpot, cook on low for 8 to 10 hours or high for 3 to 4 hours. To thicken, remove the lid for 30 minutes to let some of the moisture escape while simmering.