Pheasant and Bread Pudding Sliders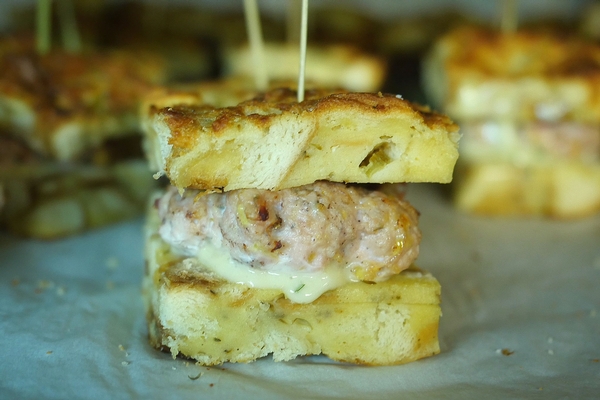 Ingredients:
Pheasant Apple Patties
2 lb pheasant thigh meat
½ lb bacon
1 apple, peeled and cored
½ onion
6 cloves garlic
1 tsp allspice
2 tbsp thyme
1 tbsp sage
½ cinnamon
2 tsp salt
1 cup Panko bread crumbs
Savoury Bread Pudding
1 loaf crusty country-style white bread
¼ cup olive oil
4 tsp fresh thyme, chopped
1 clove garlic, minced
6 tbsp butter
1 lb assorted fresh mushrooms
1 ½ cups onion, finely chopped
1 ½ cups celery, thinly sliced
3 ½ cups heavy whipping cream
8 large eggs
2 tsp salt
1 tsp pepper
½ cup parmesan cheese, finely grated
Cranberry Compote
1 lb cranberries, fresh or frozen
â…" cup brown sugar
½ cup fresh orange juice (¼ cup if using frozen cranberries)
¼ tsp cinnamon
Salt to taste
Herb Aioli
2 egg yolks
1 tbsp Dijon mustard
2 tbsp lemon juice
1 tsp sugar
2 cups canola oil
1 tbsp roasted garlic
¼ cup parsley, finely chopped
2 tbsp chives, finely sliced
1 tsp rosemary, chopped
Directions:
Pheasant Apple Patties
Grind pheasant, bacon, apple, and onion in meat grinder (or food processor).
Fold in the remaining spices and Panko.
Form balls (slightly larger than a golf ball) and flatten into patties.
Fry patties on medium-high heat until well done (160° F).
Savoury Bread Pudding
Preheat oven to 350° F and prepare 13x9 baking dish lined with parchment paper (butter the paper for extra non-stick).
Cut the bread with crust into 1-inch cubes and toss with oil, thyme, and garlic.
Spread cubes out on large rimmed baking sheet, sprinkle with salt and pepper, and bake until golden and slightly crunchy, about 5 min. Return toasted bread cubes to bowl.
Melt butter in large skillet over medium-high heat. Add mushrooms, onion, and celery and sauté until soft and juices have evaporated, about 10 min. Add sautéed vegetables and parsley to bread cubes.
Whisk heavy cream, eggs, salt, and pepper in large bowl. Mix the resulting custard into the bread mixture.
Bake bread pudding uncovered until set and top is golden brown, about 1 hour.
Let stand 15 minutes, then remove from dish and cut into squares. Squares can be sliced to make burger buns.
Cranberry Compote
Bring all ingredients to a simmer in a medium sized pot and cook down until cranberries have burst and a syrup consistency is reached, about 15 min.
Let cool to room temperature.
Herb Aioli
Mix egg, mustard, lemon juice, and garlic in a blender to combine.
With blender running on a low speed, drip the oil in slowly, allowing each addition to incorporate into the egg mixture before adding more. The mixture will thicken (if the aioli is too thick, add a few drops of water).
Fold in the fresh herbs and keep in refrigerator.
Assembly
Spread aioli on both top and bottom of the warm bread pudding bun.
Place the cooked slider patty onto the bun.
Add 1 slice of gorgonzola cheese.
Top with cranberry sauce.
Eat and enjoy!