Venison Rouladen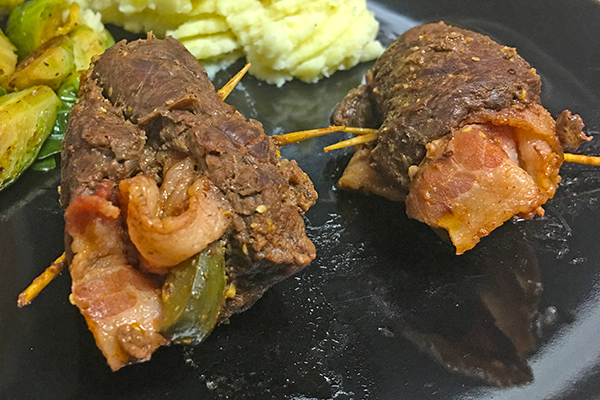 Ingredients:
2 lbs venison roast or roasts
2 tbsp brown mustard
¼ cup dill pickles
1 small onion, chopped
½ cup all-purpose flour
2-6 slices bacon
1 can beef broth
½ cup beer
1 tbsp cornstarch
½ cup water
Salt & Pepper
Directions:
Butterfly the roast(s) so that it is as flat as you can make it, then pound it flatter with a meat mallet. Aim for a quarter inch thick.
Smear brown mustard over the meat and season with salt and pepper. On one end of the roast, layer on dill pickles, onions, and two slices of bacon (or six, depending how much you like bacon!).
From the pickle side, roll it up as tight as you can so the stuffing is in the centre. Use toothpicks to hold it together (don't forget to warn guests not to eat the toothpicks). Roll in flour.
Heat oil in a pan or skillet on medium. Place the venison into the hot oil and brown, flipping occasionally.
Remove the meat once done. Add 3 tbsp of flour to the oil. Stir until flour is browned (careful not to burn). Add beef broth and beer. Remember to scrape the crusty bits from your pan-this adds the most flavour!
Bring liquid to a boil, then put the venison roll(s) back in. Cover and reduce heat. Lightly simmer for an hour and a half, flipping hallway through.
Remove venison from pan. If gravy is too watery, reduce further. Mix one tablespoon of cornstarch into ½ cup of water and stir it in. Bring to a boil until it thickens.
Finally, slice the rolls into medallions (like venison sushi rolls, without rice or fish!). Spoon on some gravy and serve.