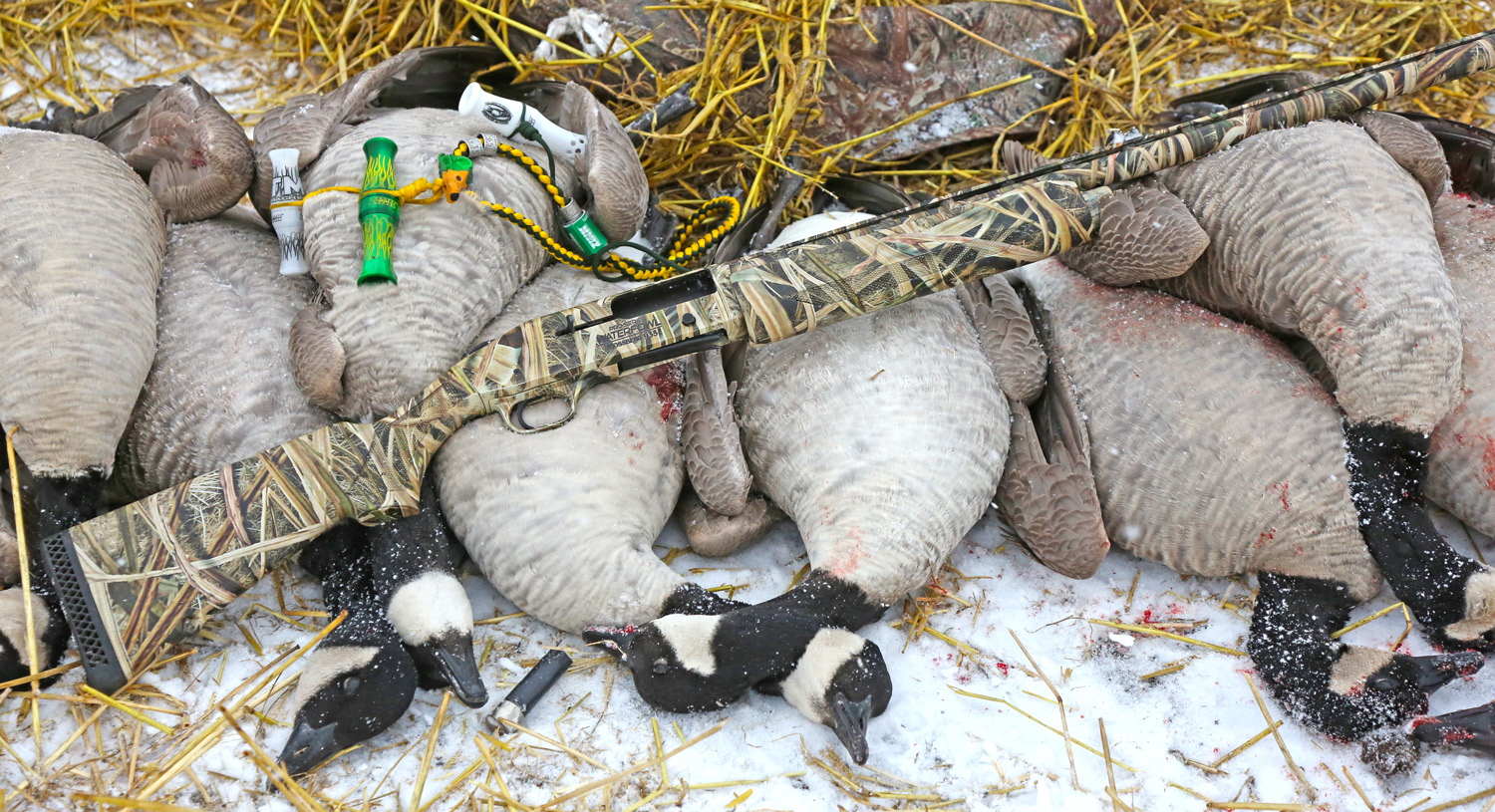 photo: Brad Fenson
Something looked out of place and I stopped, grabbed my binoculars, and glassed the distant ridge. Canada geese! It's not that I haven't seen geese in a field before, but these were stacked close together and lying flat on the ground. There was enough snow to practically fill the stubble in the field, and the geese were lounging and feeding.
I kept an eye on the honkers over the next couple of days and found them to be in a late-season pattern. They would fly out between 10:00 am and noon, then spend the rest of the day in the field. They would eat, tuck their heads under a wing and have a sleep, huddled in groups, then take off for their night roost right around sunset.
I got permission to access the land and planned a special outing for my wife Stefanie, and me. Stef has only been bird hunting a few years and does very well with a shotgun. However, when we go with larger groups, it can be difficult to tell who is shooting what or even get a shot at all with some fast trigger fingers in the group. With just the two of us to hide, we would have a better chance of success and be able to pick and choose our shots carefully.
It felt a little strange to get to sleep in on hunt day, but when we left the house on Saturday morning it was already light out. The birds had been coming late, and I was stretching my luck not being there to set up in the dark. Instead of hauling my entire decoy trailer out, I grabbed five dozen Avian-X full-body lessers and two layout blinds. It would be an easy set. To make things even better, the field was still full of large round bales so we could set up tight to the bales to break the wind and our outline. It only took a couple of minutes to set up the decoys, then we stuffed the blinds with straw and tucked them in at the base of a large bale. I drove the truck out and as I was walking back, I could see a flock of honkers coming over the tree line.
I ran for my blind and Stef and I stuffed shotshells into our guns to get ready. I was still out of breath when I tried to blow my goose call, but the incoming big birds focused on us as they had been using the field for days and were confident in their approach. With set wings, the first flock drifted lower in elevation as they neared our spread. It was magical to watch the monster honkers close the gap as they floated in closer, with little chatter and gigantic two-metre wingspans. As they dropped their big black feet for a landing, they back-peddled their wings, lifting their heads above their bodies. You could see each bird scanning the ground below them looking for a place to land. We interrupted their breakfast plans when I called the shot.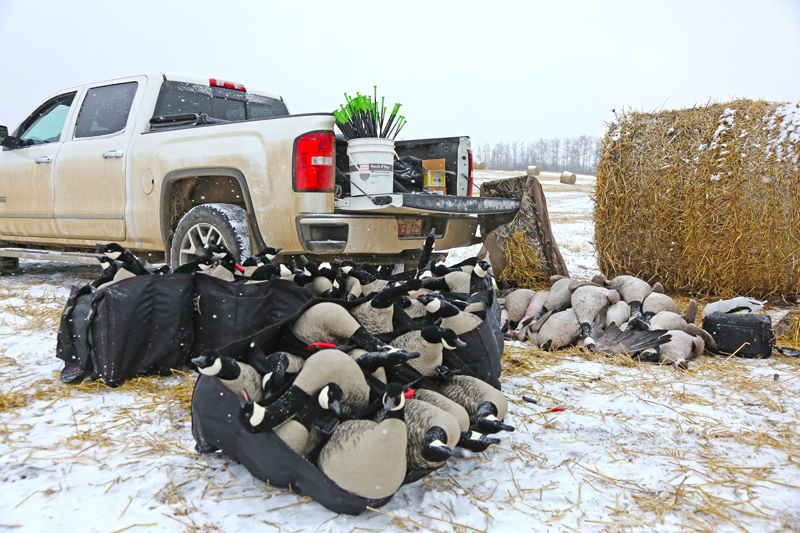 photo: Brad Fenson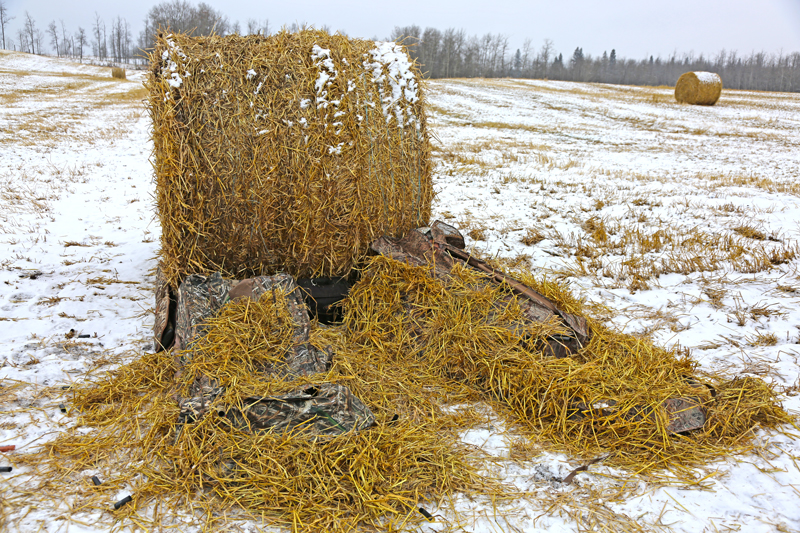 photo: Brad Fenson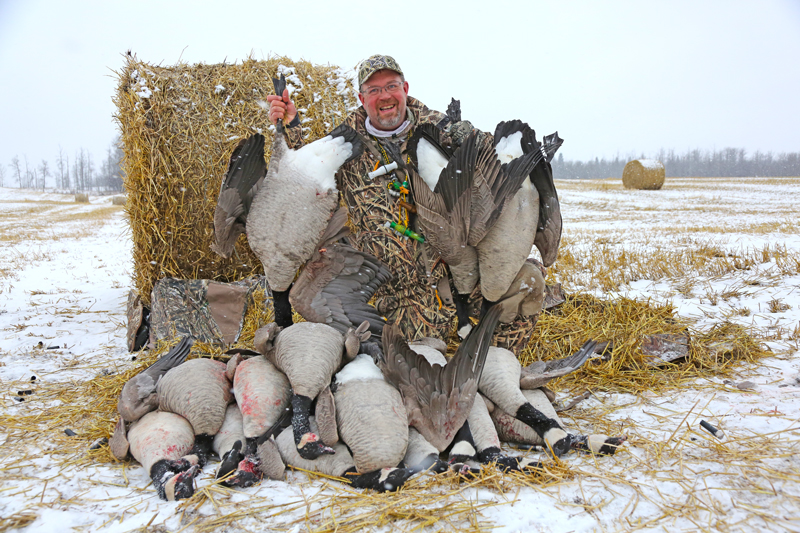 photo: Brad Fenson
Stef and I sat up, and the birds had a look of disbelief in their eyes. They quickly worked their wings and I could hear the feathers grinding the air, as they tried to escape. Shots rang out and three of the big Canadas remained in our spread. We didn't even have time to pick them up before the next flight appeared above the trees on the edge of the field. I started calling and they worked in our direction. The wind shifted slightly and the birds circled once to get better position for a landing. On the second approach, at just 12 metres off our gun barrels passing left to right, another volley of shots put more geese into our daily bag.
The action was incredible, and when we finally had time to run out and pick up some of the downed birds, we found the late-season geese were in fantastic shape. Their plumage was pristine and their bodies well rounded from months of eating cereal grains and peas. I had two birds in each hand and it was all I wanted to deal with on a single retrieve.
We set the downed birds into our decoy spread and jumped back into our blinds, as we could hear honking in the distance. The wind shifted from southeast to directly east, meaning incoming birds would be coming from a hard left.
The next group in tried to center on the decoys but the wind and blowing snow pushed them off course and they drifted behind the bale we hid behind. We couldn't see the birds, but seconds later they came in from the side at bale height. The closest bird was just two metres off the end of Stef's blind and you could hear the large wing feathers manipulate the air to get them on the ground. We added a few more birds to the bag and commented that if nothing else came in, we already had an immensely successful outing.
The next three flocks were also left just for Stef. The big geese may look like huge targets, but are extremely challenging when they use the wind and try to escape with weird breaking angles. I tried to provide some advice and told her to focus only the goose's head, and lead with her gun from there. It is easy to focus on the big bodies and wings but getting out far enough in front of these big birds means leading from the end of their beaks.
Four more flocks of honkers lined up on the horizon and as they drifted closer, they came right over Stef's blind. There was no mistaking the crumpling head shot on the honker she focused on. It was a special moment for her that left us only two birds short of a full limit. We had only been in the field for an hour and experienced one of the best goose hunts of the year. We reminisced while sipping our coffee and wondered if our hunt for the day was over, when a small group of six geese flew by the end of our field. I immediately got on the call and the birds turned in our direction.
The wind and snow were a definite advantage and the geese made a beeline directly for us. With no hesitation and no circling, they cupped their wings and soared straight in. They lost elevation quickly and within seconds were hovering over our decoys. We both picked a bird and filled our limits, with a total of 16 big honkers. Hugs and high-fives were in order.
Recipe for Success
We set our decoys in the same manner the geese had been spread in the field the previous two days. They liked a depression, which gave them some shelter, and hugged the bales to cut the wind. The birds never left the field midday and fed morning and evening. The geese were often sleeping in small groups with their heads tucked under their wing. Our decoys were set with feeding groups and sleepers, which is common late in the year.
Late birds are fully feathered and hard to penetrate. Use larger shot sizes, like BB or BBB, and focus entirely on the honkers head. A big goose has a head the size of a clay pigeon and if you lead the goose from the tip of its beak, and not its body, you'll take more home.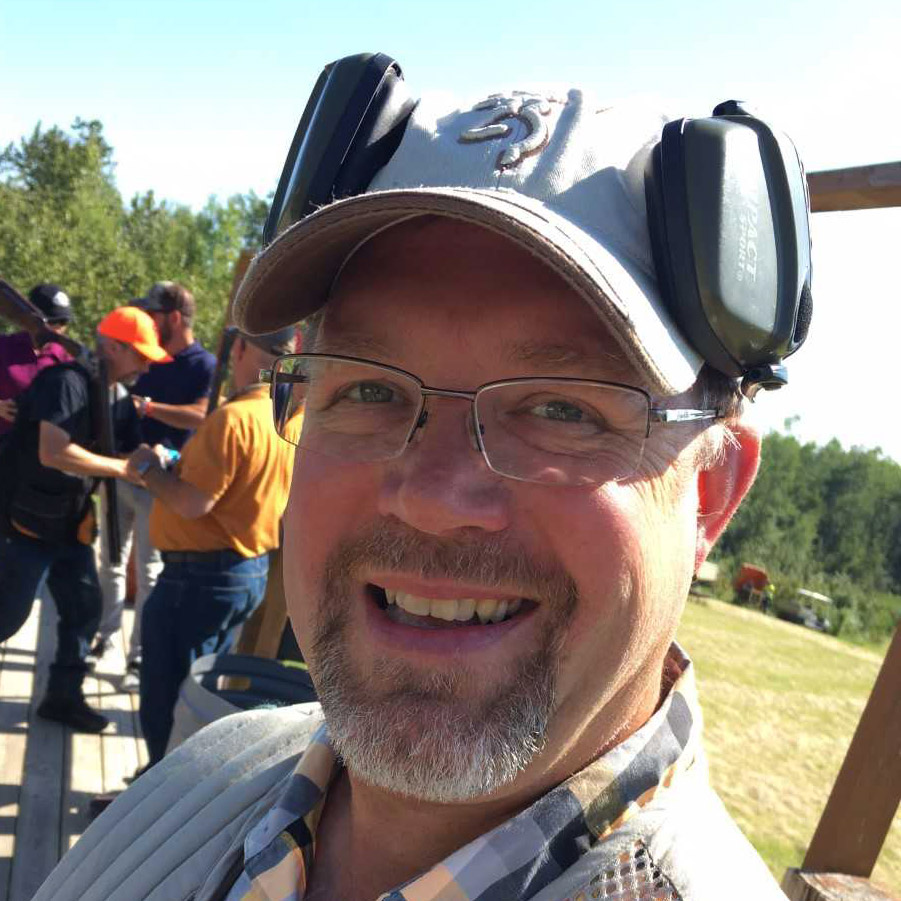 About the Author
Brad Fenson is an avid outdoorsman who enjoys hunting, fishing, and unique adventures. His passion for the outdoors leads him across North America collecting incredible photographs and story ideas from the continent's most wild places.