Duck Roll Ups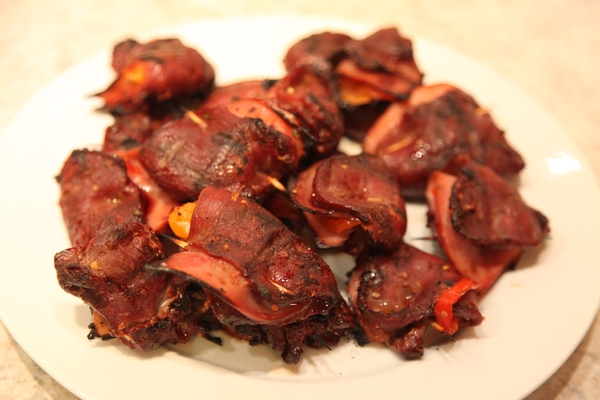 Ingredients:
6 boneless, skinless duck breasts
6 slices of deli ham
¾ cup fresh pineapple, cut into small chunks
1 cup teriyaki sauce
Hot pepper jelly
Directions:
Slice duck breasts into two or three cutlets (slice with the grain of the meat the full length of the breast). A sharp fillet knife works well and partially frozen breasts are easier to work with.
Place cutlets in a large resealable bag and cover with teriyaki sauce. This recipe works best if the breasts are marinated overnight
After marinating is complete, take cutlets out of sauce and lay flat on a cutting board.
Ham slices can be cut in half so that they fit over the cutlet.
Next, place pineapple in the centre of the ham slice that is covering the cutlet.
Fold the entire cutlet in half and weave toothpicks through the edges to hold the pineapple and ham inside the cutlet.
Grill them on a hot barbecue for 4 minutes per side.
Serve with hot pepper jelly for dipping.