Korean Venison Skewers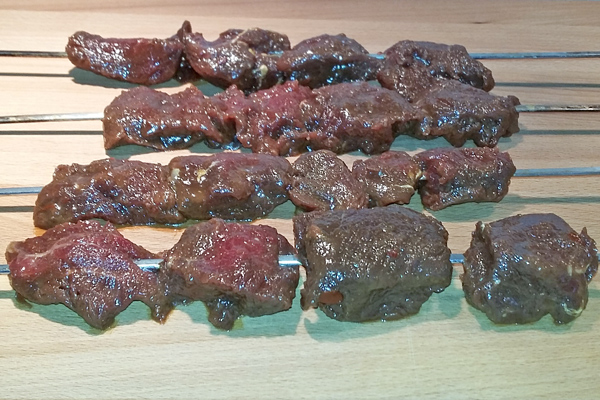 Ingredients:
1 ½ - 2 lbs venison tenderloin or backstraps, cut into 2-3 cm pieces
â…" cup soy sauce
¼ cup sweet chili sauce
1 tsp chili paste
2 tsp sesame oil
1 tsp onion powder
3-4 cloves garlic, crushed
2 tsp ginger, grated
1 tsp brown sugar
Salt and pepper to taste
Directions:
Trim venison of all silver skins and cube meat into 2 to 3 cm pieces.
Mix marinade ingredients in bowl.
Pour marinade evenly over venison pieces. Marinade in the refrigerator for 1-4 hours or overnight, if you wish.
Skewer meat using metal or wooden skewers.
Heat barbeque to medium-high and place skewers on the grill. Turn every two minutes, browning all four sides. Grill for 8-10 minutes for medium-rare. Remove from grill and tent to finish.