Venison Tourtiere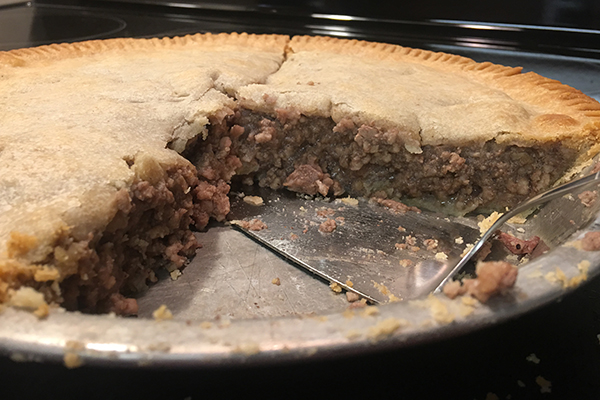 Ingredients:
2 premade pie shells
1 large potato, baked
1 Tbsp butter
1 large onion, finely chopped
1 pound ground pork
½ pound ground venison
½ cup water
1 tsp salt
1 tsp fresh ground black pepper
½ tsp cinnamon
½ tsp allspice
dash mustard powder
1 egg
Directions:
Preheat oven to 350° F.
Remove skin from potato and mash in a large bowl.
Melt butter in large skillet over medium high heat and add onion. Cook until onions are golden brown, about 6 minutes.
Add ground pork, water, potato, salt, black pepper, cinnamon, allspice, and ground mustard. Cook while mashing with wooden spoon until meat is fully cook and mixture has taken on dry consistency, making sure that potato is fully incorporated into mixture. Remove from skillet to large bowl and allow to cool completely.
Fill bottom pie shell with cooled meat filling, smoothing top of filling. Brush edges of filled pie dough with egg wash and place second crust on top. Gently seal with fingers or a fork. Cut vent in top, then brush with egg wash.
Bake for 50 minutes, if top crust begins to brown too much cover with foil.